If you grew up in the '90s, the odds are pretty good that you read an Animorphs novel or two. The sci-fi books were about as prevalent as Goosebumps in the decade, but their popularity didn't prove nearly as longlasting. Now Animorphs are making a comeback, and they're doing so in a medium that won't garner you too many strange looks if you decide to jump back into the franchise as an adult.
A new Animorphs graphic novel is on the way, and its story should sound pretty familiar to fans of the series. Rather than a new installment of the Animorphs saga (in case you need a refresher, the overarching story of the series deals with a group of kids who can transform into animals and battle aliens called Yeerks), the graphic novel is an adaptation of the first book in the series, The Invasion. And while the books were written by author K.A. Applegate, comic book artist/writer Chris Grine handled the adaptation, writing, drawing, coloring, and lettering the graphic novel himself. "I love this series and I can't wait to share it with the fans who have been wanting this to happen for so long," Grine told AV Club. "Having never adapted a book into a graphic novel before, let alone a series so deeply ingrained in pop culture, it was both super exciting and panic-inducing at times."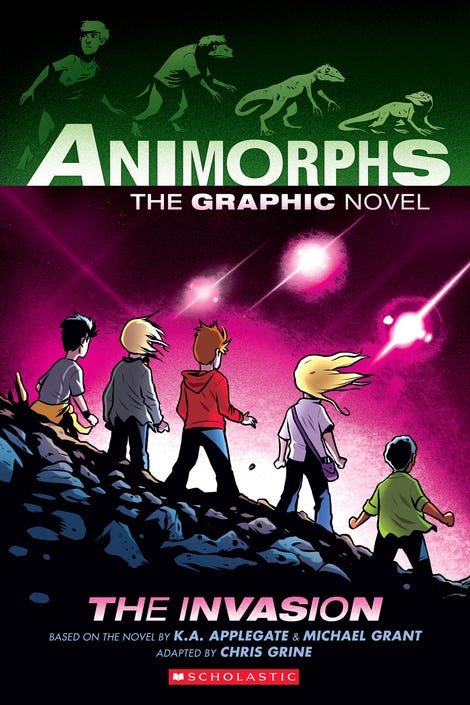 Animorphs: The Invasion graphic novel is scheduled to be released on October 6.
Images courtesy of Scholastic