Avatar 2 has been talked about for so long that it sounds like a pipe dream at this point, but it is actually a real film that's in the process of being made. As proof of that fact, the film's official Twitter account has gifted us a photo from the set of the movie, and it's showing off some pretty nifty tech… and, uh, pool noodles.
We've known for some time that the Avatar sequel would feature some sort of groundbreaking underwater motion-capture technology, and now we're getting a glimpse of what that looks like. Spoiler alert: It looks super bizarre. In the photo, stars Zoe Saldana, Sam Worthington, Kate Winslet, and Cliff Curtis are all seen floating on pool noodles in a giant water tank. Their faces are covered in the familiar motion-capture dots and they wear self-facing cameras and futuristic suits covered in orange nubs — all things that we associate with boring ol' land-based motion-capture. But here's where things get interesting. The surface of the water is covered, and we mean covered, in small silver bubbles that, if we're not mistaken, appear to stick to the actors' suits. The balls obviously have to do with the underwater motion-capture tech at play, and we're sure that they're going to lead to some wild shots.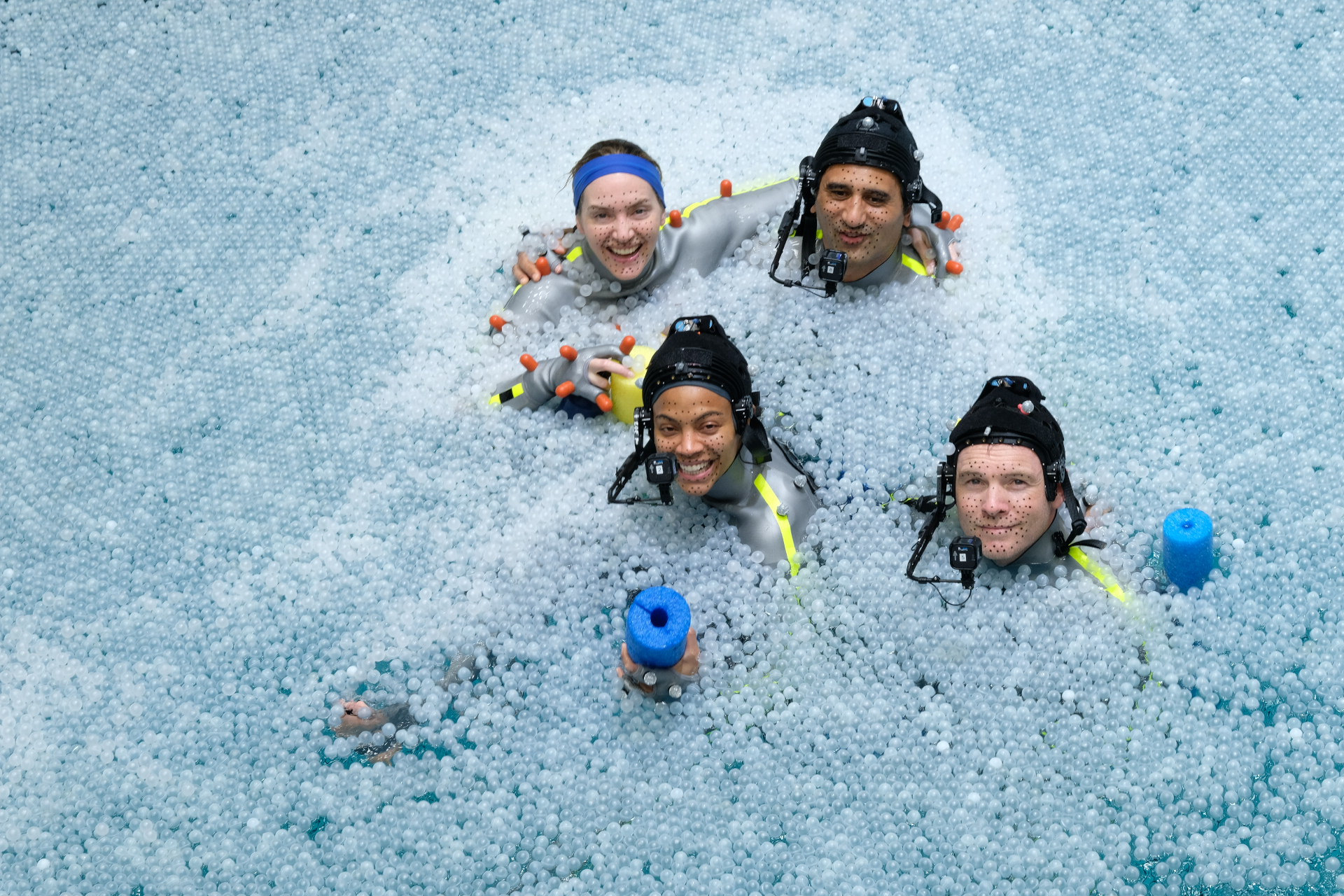 Director James Cameron had held off on making the sequel until the underwater tech caught up with his vision, and he's not known as someone who takes shortcuts. According to the Tweet, the tank in the photo holds 900,000 gallons and was built specifically for the film. Not only that, but the bulk of the movie's motion-capture shots are said to have taken place within it. This suggests an even more water-heavy film than we were anticipating, possibly making Avatar 2 the Waterworld of the franchise. For Cameron's sake, let's hope it has a better box office performance than Kevin Costner's Waterloo.
Avatar 2 is scheduled to hit theaters on Dec. 17, 2021.
Images courtesy of James Cameron/Walt Disney Pictures, Avatar on Twitter